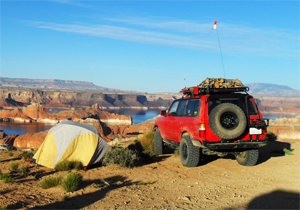 Outstanding Camp Site!
(Click picture for a larger image.)

Got a new vehicle - or new to you? After you put the lift on, bigger tires and rock sliders, you still have a major task ahead of you. How do you get all that stuff you want to take in the vehicle? Sure you can just make a big pile. The trick is how to organize it so it can be retrieved quickly (read that – move as little other stuff out of the way to put your hands on the item you want). And how can you store it safely and securely. Hit a big rock or flop your vehicle on the side, you want most (actually all!) of you gear to stay put.