Catch A Burro If You Can!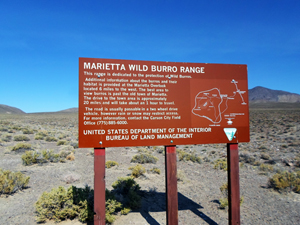 Marietta was a town developed by Francis Smith when he mined Borax on Teels Marsh
(click picture to read the text on the sign)



One of the things that makes four wheeling so much fun is seeing new and unusual places. The driving itself, while an experience in its own way, can be secondary to what you see while off road. The destination can be as fascinating as the drive.

One of the more fascinating areas in the southwest is known as the Great Basin. Encompassing parts of California, Oregon, Nevada and Utah, the Great Basin covers more than 184,000 square miles. What makes this area unique is that its rivers and lakes have no outlet to the sea (unlike other waterways). All the water stays inside the basin.