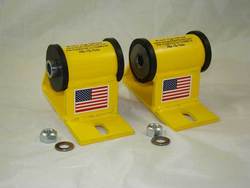 Brown Dog Offroad introduces new "K" series motor mounts designed specifically for Jeep Cherokee XJ and Comanche MJ at NAX
JA (North America XJ Association) 2009-2010 regional and national events.
Gilbert, Arizona (PRWEB) June 18, 2009 -- Jeep Cherokee XJs and Jeep Comanche MJs driven in off-road conditions are prone to worn or broken motor mounts. Brown Dog Offroad is introducing Cherokee and Comanche owners across North America to the new "K" series motor mounts and helping sponsor NAXJA regional and national events over the next year.
"Engineered to bolt directly to Cherokee and Comanche OEM six-cylinder engine brackets, neither the mounts nor brackets require any modification," reports Tim Shideler, Chief of Engineering, Brown Dog Offroad. Backed with a life-time warranty, the double-welded, all-steel motor mounts feature replaceable Classic Polyurethane or Ultra-Flex Rubber bushings.
"Everyone needs motor mounts and Brown Dog offers some of the best. In fact, I'll be putting them in my Jeep when I replace my stroker later this summer," said Cal Tuttle, Sponsorship Chairperson, NAXJA, "We don't take any profit from our sponsorship program. NAXJA gives between 8 and 20 thousand dollars yearly to support land-use battles and other related non profits such as search and rescue, volunteer fire departments, etc."
NAXJA Regional Events for remainder of 2009 include:
June 25-28, 2009 - NWFest, Naches, Washington
July 2-4, 2009 - Cherokee Crawl, Morris Mountain OHV Park, Alabama
July 19-25, 2009 - ColoradoFest, Buena Vista, Colorado
August 14-16, 2009 - Intermountain Chapter Geostash Challenge, Uinta Mountains, Utah
August 28-30, 2009 - SierraFest, Shaver Lake, California
October 6-10, 2009 - National Fall Fling, Moab, Utah
2010 events have not been announced.
About Brown Dog Offroad - Born from a broken stock engine bracket miles from civilization on the old mining trails in Arizona's Superstition Mountain Range, Brown Dog Offroad now engineers and manufactures high performance motor mounts, motor mount lifts and engine brackets for Jeep Cherokee, Comanche, and Wranglers. All Brown Dog Offroad motor mounts and engine brackets are made in the United States and backed with a lifetime warranty. For more information go to http://www.browndogoffroad.com.
About NAXJA - NAXJA is the largest Jeep Cherokee (XJ) and Comanche (MJ) club in the world. With more than 38,000 registered forum users with 1300 paid members, NAXJA operates ten regional and one national event annually. NAXJA on-line forums are largely regarded as the premier source for technical information for stock to extreme Jeep XJ's and MJ's. All funds from the event sponsorship program are used to support land-use and other related non profits (search and rescue, volunteer fire departments, etc). NAXJA is also a member of the United Four Wheel Drive Association, Tread Lightly! and the Blue Ribbon Coalition. For more information go to http://www.naxja.org.